Pictured
left to right
Elnora Sears
viol, recorder, flutes
Tom Sears
viol, recorder, harpsichord
Julia Heydon
violin, viol, recorder, voice
Michael Bardossi
violin, viola
Alice Barkan
viol, recorder
Byrdsong members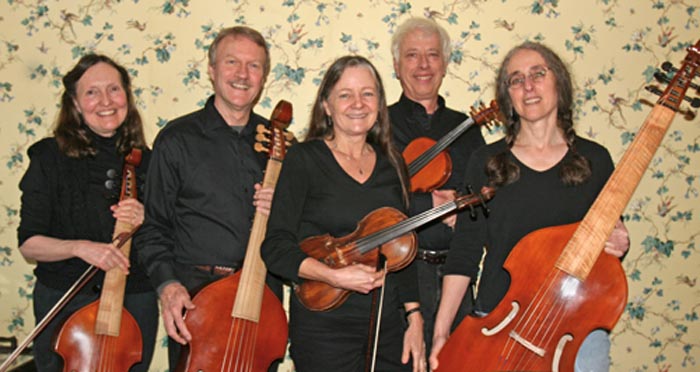 Michael Bardossi (violin and viola) joined Byrdsong in December of 2012 as a guest violinist for the group's Christmas concert. He had so much fun (as did the others in Byrdsong) he decided to stay on, has been enjoying the opportunity to play string band music with the group ever since. Michael became acquainted with Renaissance fiddle, and with Julia, while performing in the "Green Show" at the Oregon Shakespeare Festival, where he also appeared in five theatrical productions. He and Julia co-directed the Green Show in 1989, then married and moved to Eugene. They performed together in the folk quartet, Skye, for the next 15 years.

Alice Barkan (bass viol, recorders) studied bassoon in high school and college, and played bassoon in the Westchester Philharmonic Orchestra and the MIT Symphony. She first became involved with early music as a college student, where she performed with the MIT Early Music Society on recorders and shawm. Between 1979 and 1983, Alice was a member of the Madison Consort of Early Music and Encore Early Music Ensemble in Madison, Wisconsin, playing recorders and viola da gamba. After moving to Eugene in 1991, Alice performed with Viol Rackett and the Oregon Baroque Ensemble. Alice has been a member of Byrdsong Early Music Ensemble since its inception in 2002.

Julia J. Heydon (violin, treble viol, recorder, voice) has been in love with folk and early music since she was a teenager. In 1973, while an undergraduate at UC Riverside, she joined the Collegium Musicum where she was introduced to the treble viol and continued to play violin and recorder. During the late 1970s and the 80s, while pursuing a graduate degree in music history at the University of Oregon, she performed with two faculty early music ensembles — the Faculty Consort and the Earley Musick Players. During those years she also played with The Morley Consort, A Viol Rackett, and the Oregon Baroque Ensemble. Julia spent five seasons playing and singing Renaissance music at the Oregon Shakespeare Festival, and in 1989 both directed and performed (together with her future husband Michael Bardossi) in the nightly "Green Show" before the outdoor plays. During her time at OSF Julia was introduced to traditional Irish music, which led to fifteen enjoyable and creative years with the Eugene celtic band, Skye. Julia joined Byrdsong in 2002, where she has had the good fortune of pursuing her musical passions with congenial and talented colleagues ever since.

Elnora Sears (flutes, recorders, tenor viol) majored in flute performance at the University of Oregon, and played in the university orchestra and wind ensembles. During this time, she took Collegium Musicum under Dr. Owen and became interested in early music. In 1971 she moved to the Boston area with husband, Tom, and learned recorder. She taught recorder and flute at the Waring School, and played for nine years in the resident recorder ensemble of White Horse Productions, a theatre company north of Boston. Since returning to Eugene, she has continued to perform on flute and recorder while studying viol with Joanna Blendulf. She has been a member of Byrdsong since 2002.

Tom Sears (harpsichord, recorder, bass viol) has been interested in early music as a performer and instrument builder since the 1970s. Tom earned an undergraduate degree in music from the University of Oregon. His interest in choral and early music led to further graduate studies. In 1971 he and his wife, Elnora, moved to the Boston area where he accepted a job with Powell Flutes making flutes and piccolos. As a member of the stage magic company, Le Grand David, Tom wrote for and directed the resident recorder consort, the men's chorus, and a solo female vocalist. His music for recorder has been published by Loux Music; Emerson Music publishes Tom's choral pieces. Tom is the former Director of Music at the Unitarian Universalist Church in Eugene from 1994-2016.